Here's what coming up!
January Color of the Month
Blue
20% Off cuts of 1 yard or more
Tuesday and Friday Sew Ins
from 10-5 every Tuesday and Friday!
The girls sew on Tuesdays, as well as Fridays lately, and we invite you to join in the fun. Bring a project to work on or start a new one and join us for the day. 10-5 both days, bring a dish to share on Fridays (they have been going out or ordering in on Tuesdays)

***** Tuesday and Fridays have become very busy days for joining our sewing group. I am always so happy to see everyone and hear the laughter coming from the classroom. However, parking has become a little bit of an issue. Please note that there is a rear entrance to our building and parking at the rear entrance on Baker Street. If you plan on spending the day with us, please fill parking in the rear of the building first, you make park along side our building and are welcome to park in front of Maryland Marbles building in any of the 10 spots there that are available. This leaves some open spots in the front of the building for customers that will not be staying to sew all day. Please do not park in front of the daycare center or block their entrance/exit on the side of the building or entrance to their playgound. Please note, if you need help getting your items into and out of the building, we will be happy to help you, just let us know. Thanks!



January Classes

Beginner Quilting
with Mary Lou Gilbert

We have added a new evening session that starts January 30th from 5:30-7:30 due to popular demand. There is only 1 space left if you would like to participate.

So you want to make a quilt, but can't tell a rotary cutter from a seam ripper? Mary Lou will help guide you through Alex Anderson's Beginning Quilting. Learn every step of the way as you learn to plan, cut, piece, quilt, and bind your quilt. There are eight easy, beautiful projects in the class book that will get you started. Class will make the Sampler Quilt that includes flying geese, nine patch, ninepatch variation, fence rail and log cabin blocks. This is a 6 session class that runs every other week. All dates posted online under classes.
Both sessions are FULL, if you are interested in Beginning Quilting classes, please see a sales associate to get into our next session starting in April.

Let us Charm You Party
Sunday, January 19th from 12-3
If you have collected all of your charms for 2013, this party is for you. Come and celebrate with us and enjoy lunch on us, discounts for you and a special gift for collecting all of your charms! Please rsvp, so we know how much food to have! We also have several free gifts, for those who attend, from Deleware Dry Goods! Looking forward to seeing you!

Applique' Sew-In
Third Tuesday, January through October, from 4-8
January 21st
For those of you participating in the Blessings of Christmas Night, Blessings of Autumn and Little Blessings Wallhangings, come and join us for a sew in night. This will give you uninterrupted time to complete your blocks every month and give you tips and pointers for machine applique. Free to tose who have purchased the BOM's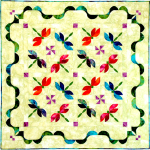 Dance of the Dragonflys


with Cheryl Kirk
Wednesday, January 22 from 10-5

A unique quilt that gives the visual effect of curved piecing without ever having to piece a curve!



Support your local quilt shops! Come and join us for specials just for you on January 25th! Register for a $25.00 gift card with any $25.00 purchase, who knows, your purchase could be free! Also, free gifts for just coming in, and put your receipt in the basket for a chance to win a sewing basket filled with goodies from Deleware Dry Goods!

Please support your local quilt shops! There have been several, within a close driving distance to us, that have announced their closings in the last month. This is a scary thought for myself as well as other quilt shop owners. Brick and mortar shops have so much more overhead than online stores that sell quilting supplies but those shops are there for you on a daily basis. They provide you with the things you need NOW and offer a wide range of services and assistance to you, that an online store cannot. I ask you to support them, not only for the future of Hoppin Bobbin but for the future of our other local shops as well. Bears Paw in Towson and Lil' Country Shop in Middletown, DE are two of the closest shops to us. We all offer a wide range of different products and each shop has it's own personality.
Please visit your favorite local quilt shops on January 25th to show them your support!





Binding and Embelishments


with Pat Hersl
Saturday, January 25th from 10-2

BINDINGS AND EMBELLISHMENTS No extra tools! No silly devices! Learn how to make and apply a straight or bias binding to your quilt. This class will demonstrate and have you work on a small sample quilt of your making. You will then have the sample for future reference plus handouts. We will also cover prairie points and lined prairie points, beautiful finishes or embellishments for your special projects. A designer touch of added piping will make you happy.

Two new Block of the Months starting in January
These laser cut and pre-fused projects will take less than half the time normal applique does!


Blessings of Christmas Night


by Shabby Fabrics

This wonderful quilt celebrates all the wonders of Christmas: an angel singing, bells a-ringing, a sleigh brimming with gifts, sweet candy canes and lollipops, and - of course - a chapel celebrating the birth of Christ! Die-cut felt snowflakes make applique easy, while a variety of embellishments add sparkle and interest. This Block of the Month begins in January 2014 and runs for 10 months, ending in October 2014 - leaving you plenty of time to complete the quilt before Christmas! Each month's kit will include the pattern (with full-color block photos), fabrics, and embroidery floss to complete one block. The final shipment will include your borders, binding, and embellishing kit.
10 month program Available january 2nd
Blessings of Autumn - 2nd Harvest

by Shabby Fabrics
Autumn with pumpkins galore, sunflowers, a cornucopia, and so much more. The schoolhouse in the center block has a real bell in the belltower! Each month's kit will include the pattern (with full-color block photos), fabrics, and embroidery floss to complete one block. The final shipment will include your borders, binding, and embellishing kit. Fabrics are exactly as shown from multiple collections. 10 month program. Available January 2nd

Receive all of your applique fabrics already fused and laser cut! All you need to do is peel off the paper, place, iron, and stitch! No need to spend hours tracing, cutting, and adding fusible webbing to each applique piece. Sign up fee is $10 to reserve your spot
, for either Block of the Month.

These two block of the Months are still available for order, please let us know so we can get you registered to participate!



New fabric Arrivals and Kits