Due to the severe weather conditions today, Hoppin Bobbin will be CLOSED.
While I hate to do it, 26 miles is a long way for me to drive under the current road conditions. Jan and Cheryl have both told me this morning, that their
neighborhoods have not even seen a plow truck yet! Safety has to be my first concern and I hope all of you will stay home today where it is safe and warm.

Our Dance with the Dragonflies class will be rescheduled to next Wednesday, January 29th from 10-5. I apologize for any inconvenience this has caused, but unfortunately I don't have any control over this nasty weather. (If I did, it would never snow!)
So, until we see you again, keep those bobbins hoppin!
Kelly

Do you have a Facebook page? Hoppin Bobbin has had one for a while but we really haven't done much with it. However, my daughter is trying to convince me of the importance of social media in this day and age. So, click on the link below to visit our facebook page and watch for the updates we place there and post photos of your quilts and projects! We like show and tell! Also, like and share on the special promotions for your chance to win gifts and prizes!
HOPPIN BOBBIN FACEBOOK
Look for us soon on Instagram and Pinterest!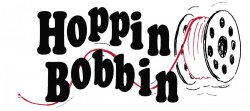 411 W Bel Air Avenue
Aberdeen, MD 21001
410 272 2226

info@hoppinbobbin.com
Hours: Tues/Thurs 10-8, Weds/Fri 10-5, Sat 9-4