Thank you to all of you who supported us on Worldwide Quilting day! We would like to congratulate
Dot Marcum and Barbara Fincham for winning the Gift Card (Dot) and the gift basket (Barbara). We hope they enjoy!!!




New Fabric Arrival
A New Leaf


Fabulous new fall fabrics that are warm and welcoming. We have kitted the panel with directions and have One Big Star kits cut and ready to go!



March Classes and Events



Kaleidoscope Star


with Erin Underwood
Saturday, March 22 from 9-3
This is an amazing wall hanging using striped or varigated fabrics and Erin's Diamond Dimension ruler
**Don't forget that the Beginner Quilting Classes are still going on this month as well as Baltimore Album Basics!
**Our Sew in Days are Tuesdays and Fridays every week. Come and join us from 10-5!
April Classes and Events

(click on each event/class for more details)


BINDINGS AND EMBELLISHMENTS
Saturday, April 5th from 10-2
with Pat Hersl

No extra tools! No silly devices!
Learn how to make and apply a straight or bias binding to your quilt. This class will demonstrate and have you work on a small sample quilt of your making. You will then have the sample for future reference plus handouts. We will also cover prairie points and lined prairie points, beautiful finishes or embellishments for your special projects. A designer touch of added piping will make you happy.


***The Sew- In for Tuesday., April 8th will be cancelled due to preparing for our Special Event that evening
Special Event
Jodi Barrows
Lecture, Demo and Trunk Show
Tuesday, April 8th from 6-9pm
$10 registration, limited seating
Jodi Barrows is the creator/owner of the Square in a Square®
technique. She has taken her love of quilting and combined it with her love for the Old West. During this time, you'll hear the history of the Pony Express and hear stories about her unique family of women. Come see the quilts and listen to Jodi as she makes this pre-Civil War time period come to life. You'll see an overview of her amazing Square in a Square technique for piecing a quilt. You'll be amazed at how versatile the system can be for any quilt design you use. We are so excited about her visit to our shop. Please plan to attend - you'll be glad you did.

I am really excited about this event! I hope that you will all join us. We have limited seating so please sign up early!




Machine Quilting 101
with Erin Underwood
Saturday, April 12 from 9-3
6 hour workshop Have no idea what to quilt where... Don't understand the difference between stippling and meandering... Tired of stitching in the ditch... and does every little quilting line have to be marked? Get the answers to these and many other perplexing quilting question while you learn the ins and outs of machine quilting.
This class is FULL please be sure to look for the next upcoming class!

Beginner Quilting
Starts Thursday, April 17th from 2:30-4:30 or 5:30-7:30

with Mary Lou Gilbert
So you want to make a quilt, but can't tell a rotary cutter from a seam ripper? Mary Lou will help guide you through Alex Anderson's Beginning Quilting. Learn every step of the way as you learn to plan, cut, piece, quilt, and bind your quilt. (6 session class)


String Bling
Saturday, April 26th from 9-3
with Erin Underwood
String Bling 61" x 84" Scrap-friendly quilt! Use your stash to create fabric with Bling! Then cut your diamonds and watch them shine! And because the strips are all cut at different widths, there's not a lot of seams to match!
So, until we see you again, keep those bobbins hoppin!

Don't forget our sew -ins are every tuesday and Friday from 10-5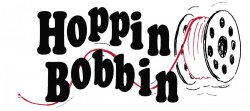 411 W Bel Air Avenue
Aberdeen, MD 21001
410 272 2226

info@hoppinbobbin.com
Hours: Tues/Thurs 10-8, Weds/Fri 10-5, Sat 9-4