Skip Navigation
Website Accessibility
Hoppin Bobbin Updates
Well, until yesterday, I thought spring was in the air! The daffodils are blooming, the trees have buds and the hosta is coming up in the yard. However, snow on april 15th is not my idea of spring....... I think Mother Nature has gone a little bi-polar on us this year. I am looking forward to some warmer weather and being able to be outside without freezing to death. And Jan swares she put her snowflake away, I think she hid it somewhere so it would keep working. I hated the snow days that I couldn't be here at the shop, but I think it was great for everyone who wanted to sew! As a result, we have been busy, busy quilting for everyone. You guys have really gotten some beautiful quilts done this winter!
Arrival of Spring means Quilt Market and this year it is in Pittsburgh in May. I'm excited to be going with Mom as usually I have to stay and run the shop when she goes to Houston in the fall. Looking forward to seeing new products and finding new, fun ideas!

Here's what is coming up!

New Fabrics from Moda


This fun group from Moda is called 30's Playtime and features small florals, daisies, scotties, spools and more! Two new fun books that give you great ideas on what to do with these fun fabrics: Lessons from Mama from Atkinson designs and Quilty Fun from Lori Holt

April Classes and Events
Beginner Quilting
Starts Thursday, April 17th from 5:30-7:30

with Mary Lou Gilbert
So you want to make a quilt, but can't tell a rotary cutter from a seam ripper? Mary Lou will help guide you through Alex Anderson's Beginning Quilting. Learn every step of the way as you learn to plan, cut, piece, quilt, and bind your quilt. (6 session class)


String Bling
Saturday, April 26th from 9-3
with Erin Underwood
String Bling 61" x 84" Scrap-friendly quilt! Use your stash to create fabric with Bling! Then cut your diamonds and watch them shine! And because the strips are all cut at different widths, there's not a lot of seams to match!

May Classes and Events

Large Quilted Tote Bag
Saturday, May 3rd from 10-2
with Kelly Davis
Come and learn how to make this great spacious tote bag! We used Soft and Stable to make this bag and I love the stability that it gives this bag. Easy and fun to make! Confident beginner +


Split Diamond Table Runer and Placemats
Wednesday, May 7th from 1-5
with Erin Underwood
A fun modern table runner and placemats using
Erin's Diamond Dimensions ruler.



Twirling
Saturday, May 10th from 9-3
with Cheryl Kirk
A fun spring quilt that reminds me of summer pinwheels!

Little Blessings, Christmas Blessings and Autumn Blessings
Applique Sew In
Tuesday, May 20th from 5-8

Don't forget our sew -ins are every tuesday and Friday from 10-5


Hoppin Bobbin is a participating Shop in the

Row By Row Experience

from July 1- September 2


So, until we see you again, keep those bobbins hoppin!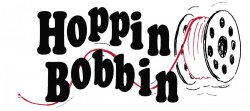 411 W Bel Air Avenue
Aberdeen, MD 21001
410 272 2226

info@hoppinbobbin.com
Hours: Tues/Thurs 10-8, Weds/Fri 10-5, Sat 9-4