E- Newsletter

The Row by Row Experience will be ending in a little over a month, this runs through September 2, so you still have time to get in on the fun! What a fun option to add to any of your summer travel plans!

We have had customers all the way from Germany to California

come into our shop just for the Row by Row and to get their FREE pattern.

So make sure you come in to get your FREE Pattern and we also have our row kitted and available for purchase. And....... while several shops have a winner with a finished, quilted, bound and labeled quilt............... we still have a set of 25 fat quarters to give away for the first finished quilt brought in to Hoppin Bobbin! Will it be you?



What's new at Hoppin Bobbin....
From Happy Hollow Designs


Stitch by Number


Super easy "Stitch on the line" project packs for beginners!
also
Espresso Ornament Kits

We have had to reorder both Stitch by Number and Espresso Ornaments kits. New stock should arrive this week.
Shannon Fabrics Cuddle Kits
Crazy Eights
These great Cuddle kits come with printed Cuddle fabrics for the top of your quilt and include binding. A quilt as you go project using the Sew and Flip method, these will keep you warm and cozy!


Ziggy Kits




These great Ziggy kits are quick and easy! They include pattern and all fabrics for top, binding and backing!
Great, fast and easy baby shower gifts! These have been so popular we are just about sold out, however, they should be back in the shop by beginning of next week.

Women of the Bible Pattern Series
Starting in August, Hoppin Bobbin will be offering a FREE block of the week on

Facebook ONLY

. This is a series of 40 blocks that will introduce several remarkable Women of the Bible. Each pattern will only be available, online, for 2 weeks. This will go on for about 41 weeks. Make sure you LIKE us on Facebook and share with friends and family.

Make sure you keep an eye out for further updates on this series.



Christmas in July
Please click on class title to follow to link for more details





Tuck your cell phone or iPod in the pocket, add a dash of cash, and away you go! Size is 7" x 8" x 2". It only takes 3 fat quarters, and 1/4 yard of fusible fleece.
Class is taught by Patti Strine. If you are interested in attending this class please email me by 5 p.m.
on Friday July 25.

Saturday, July 26th from 10:00 am to 1:00 pm




Option 1.The basic square will be the foundation for most of the options in the Square in a Square system. Using the book Quick & Easy Quilts using the Square in a Square Quilting System by Jodi Barrows.

If you are interested in attending this class please email me by 5 p.m. on Friday July 25.



Saturday, July 26th from 2:00 pm to 4:00 pm





Great pattern for the mini charm packs or you can use a charm pack and cut 2 1/2 in squares from that. This is an excellent pattern for scraps. Great multi purpose bag to use around the house or used as gift bags. The possibilities are endless. Class is taught by Patti Strine.

Tuesday, July 29th from 5:00 pm to 8:00 pm
An easy, no-sew Christmas ornament constructed with folded fabric prairie points, straight pins, and a styrofoam ball. Makes a great gift that looks like you spent hours creating. Amanda Staschak teaches this easy no-sew class.

Thursday, Jul 31, 2014 from 2:00 pm to 4:00 pm
OR
Thursday, Jul 31, 2014 from 6:00 pm to 8:00 pm


August
BINDINGS AND EMBELLISHMENTS
No extra tools! No silly devices!
Learn how to make and apply a straight or bias binding to your quilt. This class will demonstrate and have you work on a small sample quilt of your making. You will then have the sample for future reference plus handouts. We will also cover prairie points and lined prairie points, beautiful finishes or embellishments for your special projects. A designer touch of added piping
will make you happy.

Saturday, Aug 9, 2014 at 11:00 am to 3:00 pm

This class is for those of you who are participating in the Blessings of Christmas Night BOM, Blessings of Autumn 2nd Harvest BOM and Little Blessings wall hangings. Come and sew with us and get each months blocks finished! Free tips and pointers for machine applique', just come and sew!

Third Tuesday monthly from 4:00 pm to 8:00 pm
from January through October
6 hour workshop

Have no idea what to quilt where... Don't understand the difference between stippling and meandering... Tired of stitching in the ditch... and does every little quilting line have to be marked? Get the answers to these and many other perplexing quilting question while you learn the ins and outs of machine quilting.

Taught by Erin Underwood, this class will teach you the basics of machine quilting on your own machine.

One day class, handout provided.

Saturday, August 23rd from 9:00 am to 3:00 pm

September
The Seminole Indians are a tribe from South Florida. The Seminole women began designing and wearing patchwork embellished clothing around 1920. Their patchwork use strips of bright colored fabrics creating colorful intricate designs. The three simple Seminole patchwork patterns are used in the Christmas stocking.

Saturday, September 6th from 9:00 a.m. to 3:00 p.m.

Create this delightful table topper with ease using a clever quilt-as-you-go method! Dresdens twist and turn and are reversible too! What a great way to make a meal a little more interesting.

Placemat 12in. x 19in. and Table Topper 15in.x 50in.

Saturday, September 13th from 9:00 a.m. to 3:00 p.m.



Hoppin Bobbin is a participating Shop in the

Row By Row Experience
from July 1- September 2

Come in to receive your free pattern!
Our Fabric Plates will be available starting July 1st!
(Click on the links above to view other participating shops)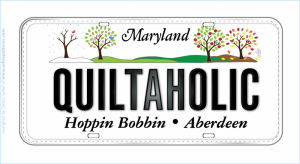 Hoppin Bobbin will be a participating Vendor on
Thursday, August 7th from 2:00-8:00pm
at the Heartland Quilt Guild's, 6th Annual
One Stop Shop Hop
25+ Vendors from the Mid-Atlantic Region
Denton Fire Hall, 400 S. Fifth Ave., Denton, MD
Door Prizes, Raffle Baskets, Raffle Quilts, Lots of Food
$3.00 at the door
This event coordinates with the

Fiber Arts Center of the Eastern Shore's

FiberFest: A Three-Day Celebration of Fiber Arts
Click link for schedule or go to www.fiberartscenter.com



Just a Friendly Reminder

As you all know its July and Christmas is just around the corner. The cut-off date for Long-arm quilting services is November 1st. Any quilts received after November 1st will incur a $50.00 rush fee to guarantee completion before Christmas.




Follow us on Facebook, Pinterest, Instagram and Twitter