Hoppin Bobbin E news

The Row by Row Experience will be ending in less than a month, this runs through September 2, so you still have time to get in on the fun! What a fun option to add to any of your summer travel plans!
So make sure you come in to get your FREE Pattern and we also have our row kitted and available for purchase. Hoppin Bobbin has their WINNER! Sandra Anderson, from Havre de Grace, came in on Friday July 25th with her finished Row by Row Experience Quilt. Sandra is a frequent shopper at Hoppin Bobbin
and she received her 25 fat quarter bundle and a $25.00 gift card for using our row. Her quilt is hanging in the shop for you to see! We have had so much fun with this and have met some fabulous ladies, and gentlemen, from as far as California and Germany.

Sandra visited the following stores to get her rows:
Hoppin Bobbin - MD, Serendipity Quilt Shop - DE, Bear's Paw Fabrics - MD
Brubaker's Sewing Center - PA, Old Country Store - PA,
Quilts by the Sea - VA, Dover Sew Center - DE
Shady Lane Selections - DE


Congratulations Sandra Anderson!



What's new at Hoppin Bobbin....



"Snow Days" by John Sloane for Wilmi
ngton Prin
ts



Nothing says winter more than a Snow Day. Snowflakes and snowmen in a frost covered town, with snow covered trees and a train for you. The coordinating prints, accent the snowman panel, hometown train station panel, tree skirt, and an apron in this 13 bolt collection.



"Jolly Christmas" by Debbie Mum for Wilmington Prints




These 12 bolts of fabric will surely get you into the Christmas mood.




Reds, greens, creams, and blacks featuring ornaments, snow flakes, and the one and only Jolly Santa. A fabulous border print, advent calendar and a Jolly Santa panel.



"Clear Water Critters" by Leann Anderson
for Henry Glass Fabrics


Lions, tigers, and bears oh my.....Oops.. wrong animals, how about Bears, Raccoons, Skunks and a friendly Moose.

With theses 18 bolts of fabric you can find all your favorite woodland critters.

A wonderful panel featuring your friendly moose and all his woodland friends. Pre-printed quilt blocks with coordinating prints with plaids, florals, characters, animal tracks, and acorns with leaves.


Women of the Bible Pattern Series
Starting the end of August, Hoppin Bobbin will be offering a FREE block of the week on

Facebook ONLY

. This is a series of 40 blocks that will introduce several remarkable Women of the Bible. Each pattern will only be available, online, for 2 weeks. This will go on for about 41 weeks. Make sure you LIKE us on Facebook and share with friends and family.

Make sure you keep an eye out for further updates on this series.



August Classes
Please click on class title to follow to link for more details

BINDINGS AND EMBELLISHMENTS
No extra tools! No silly devices!
Learn how to make and apply a straight or bias binding to your quilt. This class will demonstrate and have you work on a small sample quilt of your making. You will then have the sample for future reference plus handouts. We will also cover prairie points and lined prairie points, beautiful finishes or embellishments for your special projects. A designer touch of added piping
will make you happy.

Saturday, Aug 9, 2014 at 11:00 am to 3:00 pm

This class is for those of you who are participating in the Blessings of Christmas Night BOM, Blessings of Autumn 2nd Harvest BOM and Little Blessings wall hangings. Come and sew with us and get each months blocks finished! Free tips and pointers for machine applique', just come and sew!

Third Tuesday monthly from 4:00 pm to 8:00 pm
from January through October
6 hour workshop

Have no idea what to quilt where... Don't understand the difference between stippling and meandering... Tired of stitching in the ditch... and does every little quilting line have to be marked? Get the answers to these and many other perplexing quilting question while you learn the ins and outs of machine quilting.

Taught by Erin Underwood, this class will teach you the basics of machine quilting on your own machine.

One day class, handout provided.

Saturday, August 23rd from 9:00 am to 3:00 pm

September
The Seminole Indians are a tribe from South Florida. The Seminole women began designing and wearing patchwork embellished clothing around 1920. Their patchwork use strips of bright colored fabrics creating colorful intricate designs. The three simple Seminole patchwork patterns are used in the Christmas stocking.

Saturday, September 6th from 9:00 a.m. to 3:00 p.m.

Create this delightful table topper with ease using a clever quilt-as-you-go method! Dresdens twist and turn and are reversible too! What a great way to make a meal a little more interesting.

Placemat 12in. x 19in. and Table Topper 15in.x 50in.

Saturday, September 13th from 9:00 a.m. to 3:00 p.m.



Crazy patch or fabric play, your creativity can take flight! This block begins with paper piecing then adds traditional piecing and a touch of applique. These scrap busting cuties are ready for your favorite embellishments. We'll make 4 units for our "My Blue and Yellow Baskets." You'll be making more once you get started. This is the third in the Paper Piecing with Alex Anderson series. More advanced classes will follow.

Saturday, September 20th
from 11:00 a.m. to 2:00 p.m.

If you can count to 10, you can make this pineapple block! A step up in technique, our "Hubble Test Shot" will take your fear of paper piecing away. No complicated rulers, just a smooth flow from one piece to another and it's done. We'll work on joining of blocks and joining of foundation papers. Flying geese units make the border. This is the 4th in the Paper Piecing with Alex Anderson series with two patterns remaining.

Saturday, September 27th from
11:00 a.m. to 2:00 p.m.

Hoppin Bobbin is a participating Shop in the

Row By Row Experience
from July 1- September 2

Come in to receive your free pattern!
(Click on the links above to view other participating shops)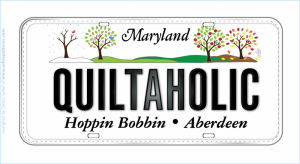 Hoppin Bobbin will be a participating Vendor on
Thursday, August 7th from 2:00-8:00pm
at the Heartland Quilt Guild's, 6th Annual
One Stop Shop Hop
25+ Vendors from the Mid-Atlantic Region
Denton Fire Hall, 400 S. Fifth Ave., Denton, MD
Door Prizes, Raffle Baskets, Raffle Quilts, Lots of Food
$3.00 at the door
This event coordinates with the

Fiber Arts Center of the Eastern Shore's

FiberFest: A Three-Day Celebration of Fiber Arts
Click link for schedule or go to www.fiberartscenter.com



Just a Friendly Reminder

As you all know its August and Christmas is just around the corner. We would like to remind everyone that our cut-off date for Long-arm quilting services is November 1st, to guarantee return before Christmas. Any quilts received after November 1st will incur a $50.00 rush fee to guarantee completion before Christmas. There will be no exceptions. Please plan ahead and prepare early.


Follow us on Facebook, Pinterest, Instagram and Twitter