Skip Navigation
Website Accessibility
A Year of Love...A Year of Fun Club x2
Hoppin Bobbin is excited to offer
" A Year of Love and A Year of Fun Club x2."
Mary Jane Carey (of Holly Hill Designs) and Leanne Anderson (of The Whole Country Caboodle) have teamed up to create 13 new sewing projects; and……. along with those projects, you will receive a recipe. What can be better than that? Sewing projects and food!! Who could ask for more?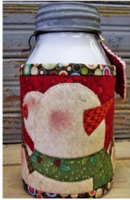 If you are interested in joining
"A Year of Love and A Year of Fun Club x2,"
You must stop by the shop to register by September 30th. Registration is $5 for the whole year and will include 13 patterns and recipes. The club starts in October. For those registered in our club, kits will be available, at a discount price on the second Saturday of each month, when you pick up your pattern. You may pick up your pattern at anytime, if you are a club member, but the kit discount is available on the second Saturday of the month only! Patterns and kits will be made available after the second Saturday to all of those who chose not to be a member, at full price.