Hoppin Bobbin E-Newletter

Hoppin Bobbin is excited to offer
" A Year of Love and A Year of Fun Club x2."
Mary Jane Carey (of Holly Hill Designs) and Leanne Anderson (of The Whole Country Caboodle) have teamed up to create 13 new sewing projects; and…… along with those projects, you will receive a recipe. What can be better than that? Sewing projects
and food!!
Who could ask for more?
For more information please click link above.
Women of the Bible

Pattern Series

Hoppin Bobbin is offering a FREE block of the week on


Facebook ONLY

. (Links work best if you have a Google account.)
This is a series of 40 blocks that will introduce several remarkable Women of the Bible. This series started on August 11th on Facebook. Each pattern will be available, online, for 2 weeks. This is a 41 week series with 40 blocks and finishing instructions. Don't worry, if you've missed a week, at the end of the series there will be a CD, with all block patterns, available for purchase, to all our Facebook followers. Make sure you LIKE us on Facebook and share with friends and family.

September Classes
Please click on class title to follow to link for more details

If you can count to 10, you can make this pineapple block! A step up in technique, our "Hubble Test Shot" will take your fear of paper piecing away. No complicated rulers, just a smooth flow from one piece to another and it's done. We'll work on joining of blocks and joining of foundation papers. Flying geese units make the border. This is the 4th in the Paper Piecing with Alex Anderson series with two patterns remaining.

Saturday, September 27th from
11:00 a.m. to 2:00 p.m.
Instructor: Pat Hersl

October Classes
Cathedral Windows
Cathedral Windows by Machine

Create this beautiful classic quilt in a thoroughly modern way! Constructed completely by machine, this quilt is really not a quilt at all. There is no batting, no binding. Once you're finished with the top, you're finished with the whole thing!

Saturday, October 11th from
9:00 a.m. to 1:00 p.m.
Instructor: Erin Underwood
Bargello Tree Skirt
Bargello Tree Skirt. What a fabulous skirt for any tree! Mary Lou teaches this easy method to accomplish this skirt.

Kit required and strips will be precut. Kit will make TWO tree skirts. There is Homework required before you attend class.


Saturday, October 18th from
10 a.m to 4 p.m.
Instructor: Mary Lou

This class is for those of you who are participating in the Blessings of Christmas Night BOM, Blessings of Autumn 2nd Harvest BOM and Little Blessings wall hangings. Come and sew with us and get each months blocks finished! Free tips and pointers for machine applique', just come and sew!

Third Tuesday monthly from 4:00 pm to 8:00 pm
from January through October

New York Beauty(Paper Piecing)
Named after the Statue of Liberty, this block is the highlight of paper piecing, showcasing your best sewing skills. The spike border echoes the block. We will tackle curved piecing. The "Summer in New York" sample is scrappy, but brights and batiks shine in this award-winning pattern. This extended class is the culmination of Paper Piecing with Alex Anderson.

Saturday, October 25th from
11:00 a.m. to 4:00 p.m.
Instructor: Pat Hersl

November Classes
Binding & Embellishment
No extra tools! No silly devices!
Learn how to make and apply a straight or bias binding to your quilt. This class will demonstrate and have you work on a small sample quilt of your making. You will then have the sample for future reference plus handouts. We will also cover prairie points and lined prairie points, beautiful finishes or embellishments for your special projects. A designer touch of added piping will make you happy.

Saturday November 1st from
11:00 a.m. to 3 p.m.
Instructor: Pat Hersl

Bargello Breeze
Placemat 12 x 20" Table Runner 12 x 43"

A Quilt-As-You-Go project!

This table topper comes together quickly using the Creative Grids 45-Degree

Diamond Dimensions Ruler. Its a great way to use up your 2-1/2" strips!

And no seams to match!

Saturday, November 8th from
9 a.m. to 3 p.m.
Instructor: Erin Underwood




We still have fabric license plates, so make sure you stop by
the shop today and get yours before they are all gone!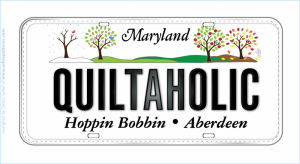 Just a Friendly Reminder

As you all know Christmas is just around the corner. We would
like to remind everyone that our cut-off date for Long-arm quilting
services is November 1st, to guarantee return before Christmas.
Any quilts received after November 1st will incur a $50.00 rush
fee to guarantee completion before Christmas. There will be no exceptions. Please plan ahead and prepare early.

The Row by Row Experience ended on September 2nd,
however if you are working on your quilt, while we have
had our winner, there are still shops that you can turn your
quilt in to, to receive a fat quarter bundle until October 31st.
Our row was in 4 other winning quilts!




Follow us on Facebook, Pinterest, Instagram and Twitter