Just a Friendly Reminder
We would like to remind everyone that our cut-off date for Long-arm quilting services is November 1st, to guarantee return before Christmas. Any quilts received after November 1st will incur a $50.00
rush fee to guarantee completion before Christmas.
There will be no exceptions.
Please plan ahead and prepare early.


What's New at Hoppin Bobbin....

Richmond Reds
by Barbara Brackman for Moda Fabrics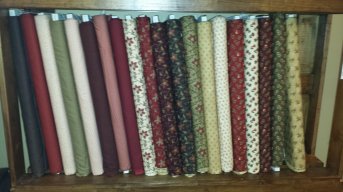 With brick reds, pinks and chocolate browns, along with
tossed blossoms, sprigs, and floral trails in warm shades, it will take you back to Richmond to the nineteenth century.

Good Cheer~Scarecrow
by Rag Spun


This wall hanging pattern comes with a raffia scarecrow
to give you harvest good cheer.

Good Cheer~Snowman
by Rag Spun


Want winter good cheer? How about this cheery snowman?
This wall hanging pattern comes with a cream snowman.


The Fat Quarter Challenge

Want a chance at the ultimate learning experience
for quilters? When you enter this challenge, you may
be the lucky winner of 2 tickets to
Ricky Tim's Super Quilt Seminar
in April 2015.
What more could any quilter ask for?

For more information please click link below

We hope all of you who are a part of our "A Year of Love and A Year of Fun Club" are enjoying the first months projects. We are currently
taking
pre-orders on next month's project
kits
for those who are
interested in purchasing the kit.
So please stop by the shop or give us a call to let us know if you are interested in purchasing next month's kits.
Snowman Gift Bags

Women of the Bible


Pattern Series

Its not too late to join in on the fun of our free block of the week on Facebook. If you've missed a week, don't worry, at the end of the series there will be a CD, with all block patterns, available for purchase, to all our Facebook followers. Make sure you LIKE us on Facebook and share with friends and family.
Block 12 is available starting today
November Classes
Please click class title to follow to link for more details
Binding & Embellishment
No extra tools! No silly devices!
Learn how to make and apply a straight or bias binding to your quilt. This class will demonstrate and have you work on a small sample quilt of your making. You will then have the sample for future reference plus handouts. We will also cover prairie points and lined prairie points, beautiful finishes or embellishments for your special projects. A designer touch of added piping will make you happy.

Saturday November 1st from
11:00 a.m. to 3 p.m.
Instructor: Pat Hersl

Bargello Breeze
Placemat 12 x 20" Table Runner 12 x 43"

A Quilt-As-You-Go project!

This table topper comes together quickly using the Creative Grids 45-Degree

Diamond Dimensions Ruler. Its a great way to use up your 2-1/2" strips!

And no seams to match!

Saturday, November 8th from
9 a.m. to 3 p.m.
Instructor: Erin Underwood
Cathedral Windows
Cathedral Windows by Machine

Create this beautiful classic quilt in a thoroughly modern way! Constructed completely by machine, this quilt is really not a quilt at all. There is no batting, no binding. Once you're finished with the top, you're finished with the whole thing!
There is limited seats left so book today!

Tuesday, November 11th from
5:00 p.m. to 8:00 p.m.
Instructor: Erin Underwood
18" Round, Height varies.

This little gem comes together quickly using the Creative Grids 15-degree Triangle Ruler!


Class supply list





Saturday, November 15th from




9 a.m. to 3 p.m.





Instructor: Erin Underwood
December Classes
Love the look of Hand Appliqué but just don't have the time for handwork? Try this technique that will make your machine appliqué look as if it was done by hand and only take a fraction of the time too! Learn all about the tricks and tools you need for success. Your quilt will look like you sat for hours and needle-turned by hand each piece!
Class Supply List

Saturday, December 6th from
9 a.m. to 1 p.m.

Instructor: Erin Underwood





We still have fabric license plates, so make sure you stop by
the shop today and get yours before they are all gone!