Looking for that perfect gift for the quilter in your life?
How about one of these wonderful wall quilt racks. Made
by a local woodworker Jason Gilbert. They can be custom
ordered for size, wood species, and/or stain.
We have a few in the shop for purchase.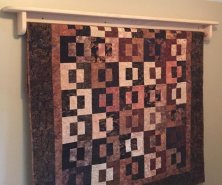 We also have other wood crafts from him as well in the shop.




For more information or to contact him for orders




please click link below.




https://www.facebook.com/jswwperryville



Don't forget we have great gifts for your quilting friends! We also have gift cards!


What's New at Hoppin Bobbin....
Assorted Tulip Hand Needles



Embroidery, quilting, tapestry, piecing, applique,




and quilt basting needles.





Garden Home




Block of the Month




designed by Kathy Schmitz


44"x52"

10 Month Program starting in January
Register today to reserve your kit!
Patchwork Garden fabric line by Moda
The Fat Quarter Challenge
The Fat Quarter Challenge
If you have registered for this challenge, you may pick up your fat quarters.


They face adversity and endure hardships; yet all too often
their troubles
go unnoticed. We also honor those Soldiers,
Sailors, Airmen, and Marines
who must miss holidays, birthdays,
and family moments in far-away distant lands. It is for the family members who keep the house running while their husband, wife,
son or daughter is away. It is for the children who dearly
miss
their deployed parent, brother, sister, uncle, or aunt.We say thank you
to the men and women who have volunteered to serve our
country and preserve our freedom.
Hoppin Bobbin carries the fabric lines required for this challenge.
If you are interested in this challenge, please sign up at Hoppin Bobbin.
For more information on this challenge please click the image above.
Pretty Pockets
*a discreet and spirited way to conceal and secure post-surgical
mastectomy drains*
We are looking for volunteers to help in this all day event on January 17th from 9- 3 p.m.


For more information about this special event
Please click the link below.


Pretty Pockets Event