Hoppin Bobbin E-Newsletter
Whats New At Hoppin Bobbin....


Clara's Garden
by Moda


Charm Pack


Layer Cakes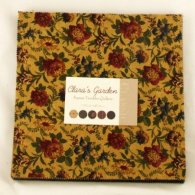 Bandana
Charm Pack

by Moda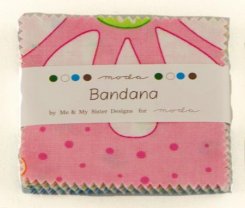 Garden Home
Block of the Month
designed by Kathy Schmitz
10 Month Program started January 1st.

Register today to reserve your kit!
There are only a few spaces left.
Patchwork Garden fabric line by Moda

The Fat Quarter Challenge
Don't forget your quilt is due in between
February 24th and February 28th.
For more information please click link below

They face adversity and endure hardships; yet all too often
their troubles go unnoticed. We also honor those Soldiers,
Sailors, Airmen, and Marines who must miss holidays, birthdays,
and family moments in far-away distant lands. It is for the family members who keep the house running while their husband, wife,
son or daughter is away. It is for the children who dearly miss
their deployed parent, brother, sister, uncle, or aunt.We say thank you to the men and women who have volunteered to serve our
country and preserve our freedom. Hoppin Bobbin carries the fabric lines required for this challenge.
If you are interested in this challenge,
please sign up at Hoppin Bobbin.
For more information on this challenge please click the image above.
January's pattern and kits are now
available for pick-up.

February's Project
Spring Time Mug Rug
Kits must be pre- ordered prior to pick-up
Pick up for February's project is on Saturday, February 14th.
Women of the Bible


Pattern Series

Its not too late to join in on the fun of our free block of the week on Facebook. If you've missed a week, don't worry, at the end of the series there will be a CD, with all block patterns, available for purchase, to all our Facebook followers.
Make sure you LIKE us on Facebook and share with
friends and family.
Block 25 is available starting today.

*There will be no new block posted on February 9th, so on February 2nd there will be 2 new blocks posted to make up for the 9th.*

January Classes
Beginner Quilting
So you want to make a quilt, but can't tell a rotary cutter from a seam ripper? Mary Lou will help guide you through Alex Anderson's Beginning Quilting. Learn every step of the way as you learn to plan, cut, piece, quilt, and bind your quilt. There are eight easy, beautiful projects in the class book that will get you started. Class will make the Sampler Quilt that includes flying geese, nine patch, ninepatch variation, fence rail and log cabin blocks.




This is 6, two hour session classes






Classes start:




Thursday, January 8th




Day: 2:30- 4:30p.m.




Evening: 5:30- 7:30p.m.





Instructor: Mary Lou Gilbert





Hand Quilting
Have you wanted to learn to hand quilt? This is the class for you. Cheryl will walk you through the basics of hand quilting in this two session class, from marking your quilts, to getting those perfect stitches!



Class Supply List


Because the class had to reschedule,
the new dates are posted below

:




Tuesday, January 20th from




6 p.m. to 8 p.m. and Tue, Jan 27, 2015 from 6:00 pm to 8:00 pm





Instructor: Cheryl Travis





Sew In Days
Every Tuesday and Friday from 10-5, Hoppin Bobbin hosts a Sew in Day. Bring a project and all of your supplies and have a great day sewing with friends. Bring a covered dish to share. If you are planning on staying the day, please fill the parking spots in the rear of the building first. This enables new customers to find parking in the front of the building.
We still have fabric license plates, so make sure you stop by
the shop today and get yours before they are all gone! If you didn't
get our Row by Row pattern, it is available on our website for Free.
Just click on the link on the homepage!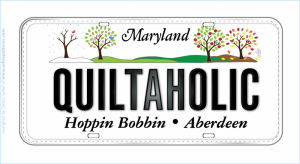 Follow us on Facebook, Pinterest, Instagram and Twitter