Hoppin Bobbin E-Newsletter

I have to say that I am not sure I am happy to be back from vacation....... after being in the Caribbean for a week, and the temps being in the 80's, I was not happy to come home to snow and temps in the single digits.
I never have liked the cold and snow and I am not happy with Old Man Winter right now. I will say, it is good to be back to quilting and piecing and thankfully, it is warm inside! Deb and I, along with the guys, had a great time but all agreed that 10 days, on a cruise ship, was just a little too long. Now, we are trying to play catch up and get ready for the show season and get new classes scheduled. Row by Row is also just around the corner!!!
So, there are a lot of fun and exciting things coming up for Hoppin Bobbin in the next few months.


Whats New At Hoppin Bobbin....


Why? Book Kits Available


The Fat Quarter Challenge
Don't forget your quilt is due in between
February 24th and February 28th.
For more information please click link below

Hoppin Bobbin carries the fabric lines required for this challenge.
If you are interested in this challenge,
please sign up at Hoppin Bobbin.
For more information on this challenge please click the image above.
Quilts for this challenge will be accepted March 24th through April 3rd. You can vote for your favorite quilt April 7th through April 18th.
Our winner will be announced on April 21st.
Voting for the National Winner will start on April 30th
on Moda's Blog Post.

March's Project
Bunny Doodle Pad
Kits must be pre- ordered prior to pick-up
March's project will be available Saturday, March 14th.
Women of the Bible


Pattern Series

Its not too late to join in on the fun of our free block of the week on Facebook. If you've missed any of the blocks, don't worry, at the end of the series there will be a CD, with all block patterns and finishing instructions, available for purchase, to all our Facebook followers.
Make sure you LIKE us on Facebook and share with
friends and family.
Block 29 is now available.

March Classes

Beginner Applique
Beginner Applique.





Learn the steps for easy Raw Edge Applique from start to finish.




Kits are required for class.





Saturday, March 28th from




9:00 a.m. to 3 p.m.




Instructor: Kelly Davis




Sew In Days
Every Tuesday and Friday from 10-5, Hoppin Bobbin hosts a Sew in Day. Bring a project and all of your supplies and have a great day sewing with friends. Bring a covered dish to share. If you are planning on staying the day, please fill the parking spots in the rear of the building first. This enables new customers to find parking in the front of the building.
This is the last week you can stock up on all your
red fabrics of 1 yd. or more for 20% off.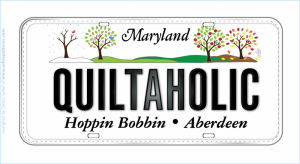 Follow us on Facebook, Pinterest, Instagram and Twitter