Whats New At Hoppin Bobbin....
I have to say that all of us here at Hoppin Bobbin were very impressed with the quality of the quilts that participated in the Fat Quarter Challenge. I heard the stories behind all of these quilts and know that some of the ladies pushed themselves to an even greater challenge than just "what to do with 5 fat quarters". Everyone did an amazing job and every quilt was creative in it's own way! Thank you to all who entered their quilts, You did a fabulous job! The voting was very close, but out of 10 quilts only one could win the viewers choice and the grand prize.
The winner of The Fat Quarter Challenge is...... (drumroll please......)
Andrea Staschak

Congratulations Andrea!
Hope you have a great time at the Ricky Timms Conference!
The five fat quarters
The participating quilts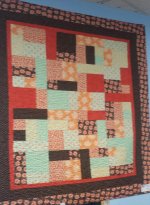 Hoppin Bobbin carries the fabric lines required for this challenge.
If you are interested in this challenge, please sign up at Hoppin Bobbin. For more information on this challenge please click the image above. Quilts for this challenge will be accepted March 24th
through April 3rd. You can vote for your favorite quilt April 7th through April 18th.
Our winner will be announced on April 21st.
Voting for the National Winner will start on April 30th
on Moda's Blog Post.
March's Project
Bunny Doodle Pad
If you missed Saturday's pick-up, don't forget to come in for your kit or pattern for this adorable bunny!
Women of the Bible


Pattern Series

There's only a few more weeks left, but it's not too late to join in on the fun of our free block of the week on Facebook. If you've missed any of the blocks, don't worry, at the end of the series there will be a CD, with all block patterns and finishing instructions, available for purchase, to all our Facebook followers. Make sure you LIKE us on Facebook and share with friends and family.
Block 33 is available starting today
March Classes
Please click on class title to follow to link for more details
Beginner Applique
Learn the steps for easy Raw Edge Applique from start to finish.

Kits are required for class.

Saturday, March 28th from

9:00 a.m. to 3 p.m.

Instructor: Kelly Davis
April Classes
Beginner Quilting
So you want to make a quilt, but can't tell a rotary cutter from a seam ripper? Mary Lou will help guide you through Alex Anderson's Beginning Quilting. Learn every step of the way as you learn to plan, cut, piece, quilt, and bind your quilt. There are eight easy, beautiful projects in the class book that will get you started. Class will make the Sampler Quilt that includes flying geese, nine patch, ninepatch variation, rail fence and log cabin blocks.

This is a 6 - two hour session class

Starting

Thursday, April 23rd from

2:30 p.m. to 4:30 p.m.

&

5:30 p.m. to 7:30 p.m.

Instructor: Mary Lou Gilbert
Precision Piecing with "Migration"
Bask in the admiration of your quilts when you add the refinement of precision piecing to your work. This lecture class will be interspersed with sewing techniques that will serve you well. We will cover straight lines, triangle sewing and how to achieve perfect points. "Migration" pattern included with handouts. Full of information for a lifetime of projects.

Saturday, April 25th from

11:00 a.m. to 2:00 p.m.

Instructor: Pat Hersl
May Classes
May Flowers- Turned Edge Applique by Machine
Love the look of Hand Appliqué but just don't have the time for handwork? Try this technique that will make your machine appliqué look as if it was done by hand and only take a fraction of the time too! Learn all about the tricks and tools you need for success. Your quilt will look like you sat forhours and needle-turned each piece by hand! An added bonus, this class technique will giveyou a "trapunto" lesson too!

Saturday, May 2nd from

9:00 a.m. to 3:00 p.m.

Instructor: Erin Underwood
Bodacious Baskets
Break out the buttons and the lace! Scraps and strips are used to create these amazingly fun baskets, designed to hold the most delicious linens. Gather your rick-rack and trims. Break into Grandmom's old button box. This pattern is designed to showcase the wonderful fibers we all love. Instructor will come with some linen scraps.

Saturday, May 16th from

10:00 a.m. to 3:00 p.m.

Instructor: Pat Hersl
Paper Piecing with Loving Hearts
Delight a little girl (or a big one!) with these paper-pieced Loving Hearts. We'll explore your machine stitches and use fancy threads to enhance this tiny treasure. Learn to add this dimension to any quilt with easy machine embroidery. Gather scraps and sparkly threads for maximum fun.

Saturday, May 30th from

11:00 a.m. to 2:00 p.m.

Instructor: Pat Hersl
June Classes
Learn three different ways to approach fusible

machine appliqué. Fast, fun and outstanding results! This class even gives you a quick introduction to Machine Trapunto.





Saturday, June 6th from




9:00 a.m. to 3:00 p.m.




Instructor: Erin Underwood
Binding and Embellishment
No extra tools! No silly devices!




Learn how to make and apply a straight or bias binding to your quilt. This class will demonstrate and have you work on a small sample quilt of your making. You will then have the sample for future reference plus handouts. We will also cover prairie points and lined prairie points, beautiful finishes or embellishments for your special projects. A designer touch of added piping will make you happy.





Saturday, June 13th from




11:00 a.m. to 2:00 p.m.




Instructor: Pat Hersl
Sew In Days
Every Tuesday and Friday from 10-5, Hoppin Bobbin hosts a Sew in Day. Bring a project and all of your supplies and have a great day sewing with friends. Bring a covered dish to share. If you are planning on staying the day, please fill the parking spots in the rear of the building first. This enables new customers to find parking in the front of the building.